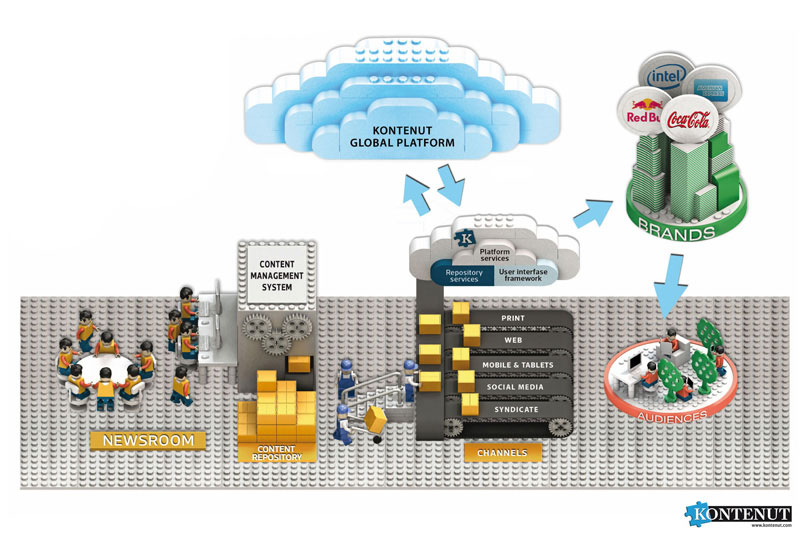 As we talked about in a prior post, Kontenut offers a new business opportunity for publishers. Since brands don't need to become professional content producers, publishers can do it for them. Nowadays publishers are the perfect partners for a successful content marketing strategy. Why? Because they have the best possible way to support brands delivering their message using quality content.
The decrease on print advertising is forcing publishers change their mind-set. Now content marketing represent for them a new way of doing business.
In this emerging global scenario, at Kontenut we can offer a value proposition for premium publishers. Using our platform you can get several advantages:
New Revenues: Up the value of your content. Kontenut provides a new revenue source, which will allow monetizing your new content and especially, your existing digital assets.
Return of investment (ROI): We offer a cloud-based service with quick time to market and without the need of a huge initial investment
Know how sharing: Kontenut allows you to gain access to other publishers knowledge in a global community platform with the same business demands and requirements.
Global Reach: Expand your content. Lots of brands need leading content like yours. Be part of a global platform where you will be able to offer existing digital assets to global markets looking for quality content.
Local differentiation: You can take advantage of the platform syndicated digital assets from global premium publishers to offer their quality content to your local clients.
Content marketing is a new business opportunity for publishers and brands. As David Shing, AOL's digital prophet, says: "We need to convert brands in experiences, in emotional storytelling". That's true. Content and most specifically, the art of storytelling are changing the way customers consume content. Publishers must take advantage of it!
And with us it's possible. At Kontenut we work to connect premium publishers and brands to get access to high quality content that engage their audiences.