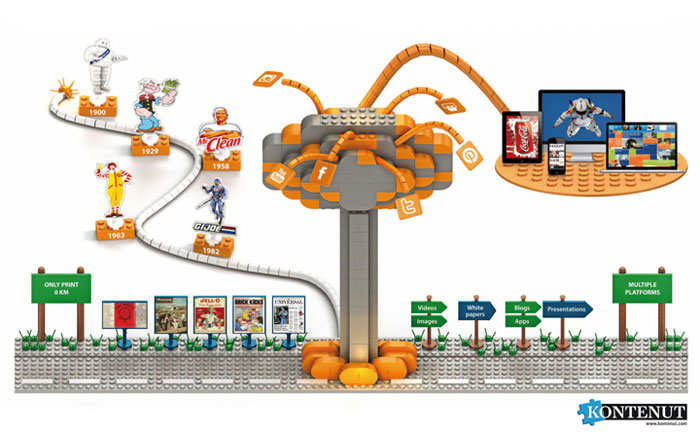 When we talk about content marketing strategies, sometimes it seems like something new, a new tool that companies use to attract more customers. But that's not true.
Marketing, and more specifically content marketing, has been practiced for a long time. Publications like John Deere's Magazine (1895) or the Michelin's guide (1900); characters like Popeye (1929) or Mr.Clean (1958) are often mentioned as the first examples of content marketing.
The main difference between now and then is that years ago marketing campaigns only appeared on print channels or traditional media. However the real explosion of content marketing (which we know today) started with the ever expanding array of mobile devices, the social media platforms and the huge variety of content formats available.
While print ad spending in America has been declining sharply, investment in content marketing has been growing annually on a double-digit basis. According to a 2011 study by The Content Marketing Institute, content marketing is one of the top growing fields with and with increasing numbers of marketers relying on content strategy for overall success. The figure today shows that content marketing is now an industry that expects more than 50billions USD for 2014 in USA.
The main reason is the increase of multimedia, audio, video and web content that we can share by different platforms and channels.
Nowadays, the 90% of B2B marketers do some form of content marketing, whether they realize or not. When we talk about content marketing tactics we mean article posting, social media strategies, blog management, newsletters or case studies, among others.
Companies have realized that content marketing in a social and mobile environment helps them to achieve more brand awareness, customer engagement and lead generation.
But creating content isn't enough. The challenge is to be exceptional and unique. The goal is to provide high quality content to our audiences.